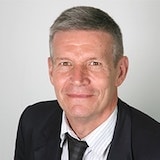 Professional Journey
Dr John Lambert is a consultant in infectious diseases and genitourinary medicine at Mater Misericordiae University Hospital and Rotunda Maternity hospitals. He is director of the National Isolation Unit for Highly Infectious Diseases at the Mater Misericordiae University Hospital and a member of the National Viral Hemorrhagic Fever Committee of the HSE. He also teaches at UCD School of Medicine and Medical Science.
John has taught on the subject of sexually transmitted infections (STIs) and has been involved in the Sexual Health Strategy group in Ireland. His work in HIV has predominantly centred around drug studies, HIV and Hepatitis C coinfection studies, HIV infection in pregnancy and studies of therapeutic drug monitoring in pregnancy.
John completed his training at the Michigan State University and Rochester, New York. He became assistant professor at Johns Hopkins and University of Maryland Institute of Human Virology in Baltimore. Following his return to the UK in 2000, he worked at St Mary's and Kings College Hospital until 2005. John has written more than 10 book chapters and 80 peer-reviewed articles surrounding infectious diseases, HIV, STIs and vaccines.
Get in Touch
Contact John by Email