Nurse Kit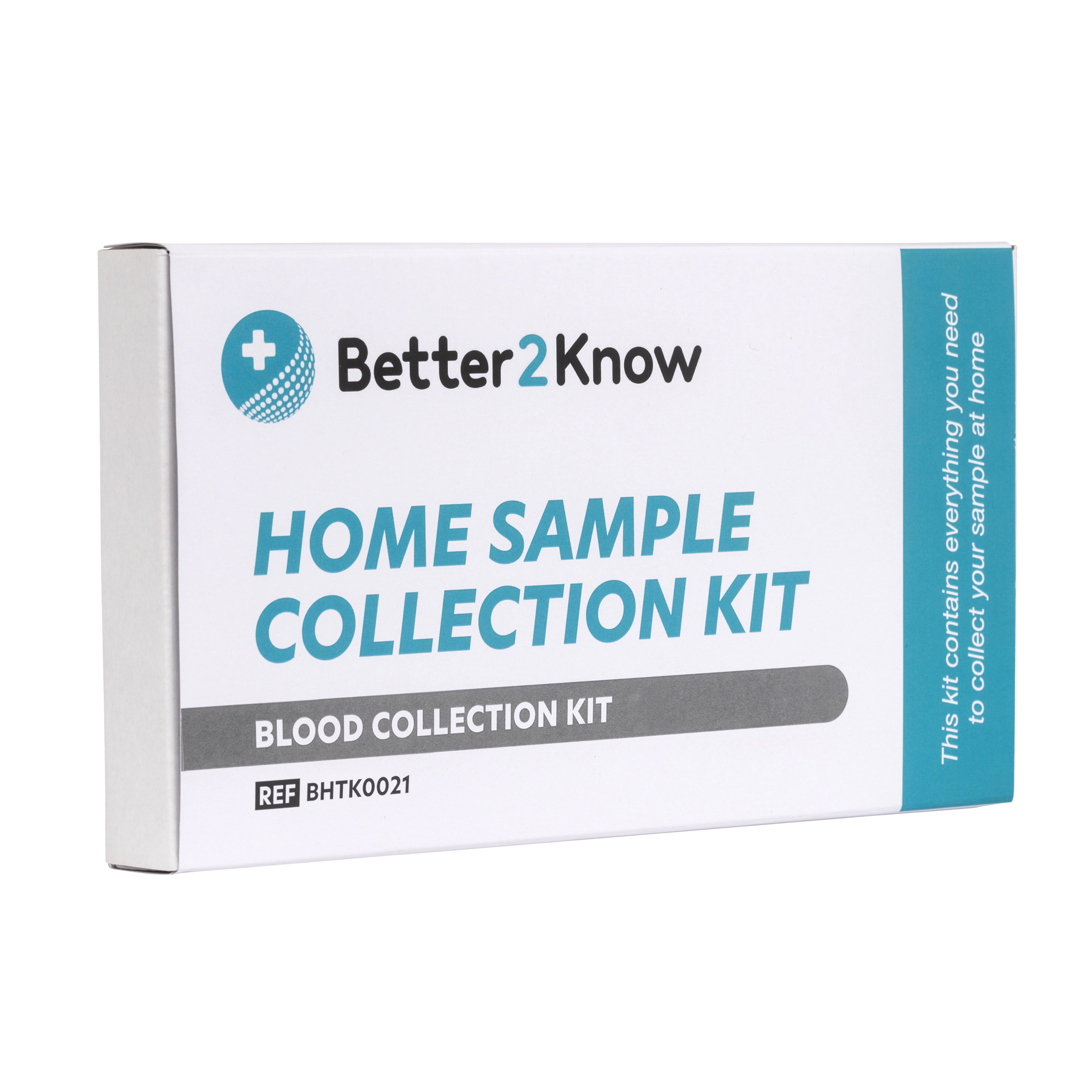 Product Description
How it works
FAQs
Product Description
Better2Know Terms & Conditions
What is a Blood Chemistry Test?
The Better2Know Blood Chemistry test is designed to analyse your blood and evaluate the functionality of major bodily organs. Many tests are included and will indicate any parts of your system that are not operating properly.
Why consider a Blood Chemistry Test?
If you are someone who is looking for a thorough assessment of your major organs and systems in your body, then this is the test for you. This test will provide an in-depth view of your health and wellness.
How does this test work?
This test is run on a small blood sample collected by a nurse. Your discreetly packaged kit will arrive with you containing everything your nurse will need to collect your sample including a postage paid return envelope to our laboratory for you to post your sample back to us for testing.
What tests will you run on my sample?
This test will assess the following:
Kidney profile. Sodium, potassium, urea and creatinine.
Liver profile. Transaminases (alanine and asparagine), gamma-glutamyl transpeptidase (GGT), alkaline phosphatase, aspartate aminotransferase (AST), alanine aminotransferase (ALT), bilirubin and albumin.
Bone profile. Protein, albumin, calcium, phosphorus and alkaline phosphatase.
Cardiac profile. Transaminases (alanine and asparagine), creatine kinase, lactate dehydrogenase and potassium.
Lipid profile. Cholesterol, triglyceride, high-density lipoprotein (HDL cholesterol), low-density lipoprotein (LDL cholesterol).
Glucose. Measures your blood sugar levels.
Chloride. Essential for digestion. Helps to balance electrolytes, as well as acidity and alkalinity, which helps to maintain a healthy pH.
Uric acid. High levels may indicate gout.
When will my test kit arrive?
Your kit will be shipped same day if you order before 4pm on any working week day. Your kit will be shipped via first class post, but if you would rather a faster delivery service, please contact us and a member of our team will be able to organise this for you.
How will I receive my test results?
Upon your samples arrival to our lab, your results will be ready within working day. You can monitor your results status by logging into your patient area through our website using the details emailed to you upon completing your order. A member of our experienced patient services team will be in touch once all your results are available.
What should I do with my results?
You should seek further medical advice from a GP if you receive any abnormal results. Better2Know is able to arrange a private consultation for you with one of our experienced doctors, or you can take your results to your own GP. Further testing and treatment may be necessary.
How can I order my test?
By selecting 'Add to Basket' and following the instructions you can order your test kit now. Or you can call us on the number above and speak to a member of our team who can answer any further questions you might have and book your test for you. Better2Know provides a wide range of health tests and screens throughout the UK. Our welcoming and experienced team are available 24/7 for your convenience.
How it works
How It Works
Buying your home test kits online is simple:
1

Buy your test online.

2

Receive it in the post.

3

Provide a sample.

4

Return your sample to our lab in the postage-paid return envelope provided

5

Check your results securely online.
We provide a completely confidential and anonymous service. Please refer to our FAQs above, for more information. If you have any additional questions, please do not hesitate to contact us, using the phone number at the top of the page.
FAQs
Frequently Asked Questions
Q: When will you send my kit to me?
If your order is placed before 4pm on a working day, then it will be sent the same day. Otherwise it will be sent on the next working day.
Q: Why do you need my email address?
Your Patient Services Manager, Louise Wright, will email you your login details to access your results, a confirmation your kit has been dispatched and finally when all your results are ready. We do not sell on or email you any other marketing materials, that is why we do not ask you to opt in or out of anything.
Q: Do I need to use my real name?
No, but the postman does need to know where to deliver the kit to. As long as you use a name that will get the kit to you, then we do not need your real name.
Q: What does the kit packaging look like?
It will arrive in plain white envelope with your typed name and address on it.
Q: What if I have any more questions?
You can email Louise by replying to one of the emails she has sent to you. She will do her best to answer them.