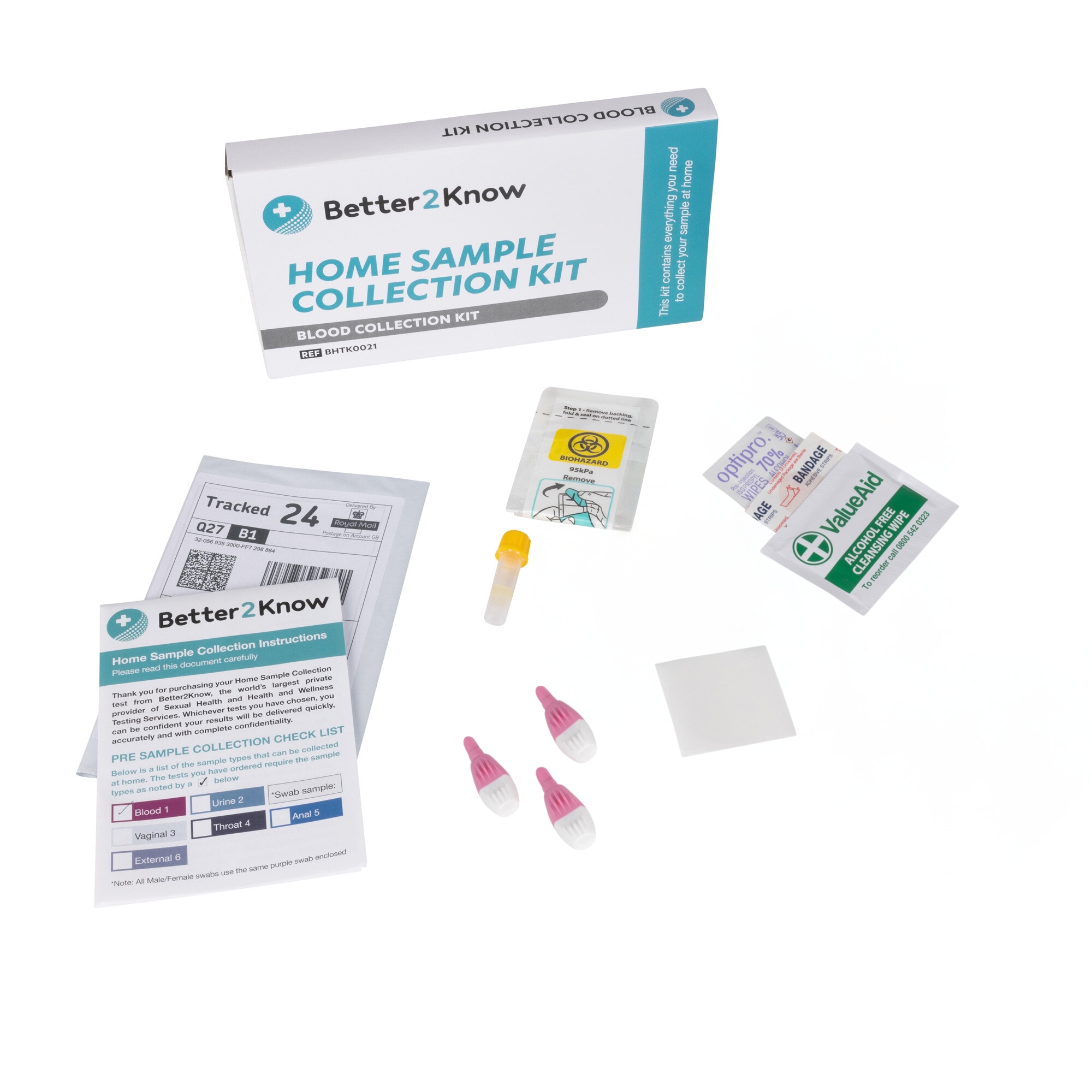 Product Description
How it works
FAQs
Product Description
Better2Know Terms & Conditions
What does a Cholesterol test involve?
During a cholesterol test, the amount of cholesterol in your blood is measured from your blood sample. This test detects early signs of diabetes and heart disease by determining whether you have excess fatty build-up in your blood vessels, which would clog the blood flowing through your arteries. This build-up means you have high cholesterol, which can be an early indicator of related health issues.
Why should I consider a Cholesterol test?
High cholesterol does not typically exhibit signs or symptoms in the body, yet it can cause severe heart attacks or strokes. Causes range from personal lifestyle choices to hereditary origins. This means that aspects of your lifestyle, such as being overweight or smoking, are equally as likely to cause your high cholesterol as someone in your family having had high cholesterol.
How does the Cholesterol test work?
You will receive your home testing kit in the mail. Once you take your blood sample with the tools provided in the kit, you will use the pre-paid return envelope to send your sample to our accredited Ireland lab for efficient and accurate analysis. These results will be available to you within one work week after Better2Know receives your sample.
What tests are run on my blood sample?
Our Cholesterol test inspects your blood sample for the following:
Cholesterol levels. A sum of the cholesterol content in your blood is provided.
When will my test kit arrive?
If you order this test before end of business hours Monday-Friday, the kit will be sent out that same day via An Post. It takes 2 to 4 days to reach you, depending on your location.
How do I receive my Cholesterol test results?
Within one workday after our lab receives your sample, your test results will be ready. A member of our Patient Services team will contact you directly with your confidential results. In addition, you may access your results online through your secure patient area on our website
What should I do with my Cholesterol test results?
If your results detect high levels of Cholesterol in your blood, you should discuss these results further with a doctor. Better2Know can help arrange a private consultation through our network of skilled doctors throughout Ireland. You may also discuss these results with your GP.
How can I order a Cholesterol test?
On this Cholesterol test kit page, you can select 'Add to Basket' and proceed to checkout. If you prefer to purchase the kit over the phone, you can call the Better2Know contact number above. A member of our Patient Services department can process your order and answer any questions you may have.
The Better2Know team is available 24/7 to help you navigate and book any of our services. We offer numerous health tests and screens throughout Ireland, helping you obtain accurate information regarding your health.
Quick Facts
Test: Cholesterol levels
Conditions: Heart disease, diabetes
Samples: Blood.
Accuracy: This test profile diagnoses Cholesterol with 99.9% accuracy.
Test Kit: Self test. This test requires you to perform your own small finger prick sample.
Results Turnaround time: 1 days.
Price: €45
How it works
How It Works
Buying your home test kits online is simple:
1

Buy your test online.

2

Receive it in the post.

3

Provide a sample.

4

Return your sample to our lab in the postage-paid return envelope provided

5

Check your results securely online.
We provide a completely confidential and anonymous service. Please refer to our FAQs above, for more information. If you have any additional questions, please do not hesitate to contact us, using the phone number at the top of the page.
FAQs
Frequently Asked Questions
Q: When will you send my kit to me?
If your order is placed before 4pm on a working day, then it will be sent the same day. Otherwise it will be sent on the next working day.
Q: Why do you need my email address?
Your Patient Services Manager, Louise Wright, will email you your login details to access your results, a confirmation your kit has been dispatched and finally when all your results are ready. We do not sell on or email you any other marketing materials, that is why we do not ask you to opt in or out of anything.
Q: Do I need to use my real name?
No, but the postman does need to know where to deliver the kit to. As long as you use a name that will get the kit to you, then we do not need your real name.
Q: What does the kit packaging look like?
It will arrive in plain white envelope with your typed name and address on it.
Q: What if I have any more questions?
You can email Louise by replying to one of the emails she has sent to you. She will do her best to answer them.