« View All Products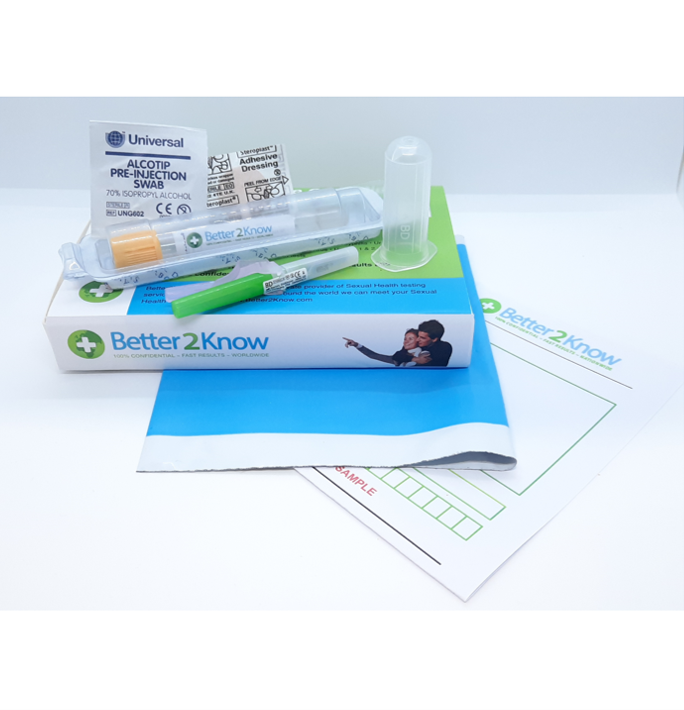 Product Description
How it works
FAQs
Product Description
Better2Know Terms & Conditions
Covid-19 (Coronavirus) Antibody Test Nurse Kit
This IgG Antibody test will determine whether your body has produced antibodies in response to Covid-19. You will be required to find a qualified clinician who can draw a blood sample from your arm. To do so, you may contact:
Your local clinic or surgery
A qualified nurse or medical practitioner
Better2Know who may be able to arrange for a nurse to visit you.
This test has been "deployed as part of the UK's "highly-reliable, large-scale antibody testing". Find out more about this test here.
Your Nurse Kit will include the following:
Pre-blood draw antiseptic wipe and plaster
A gold-topped blood collection tube and protective case
A needle and holder for use with the blood collection tube
A full set of instructions for getting your sample taken
A pathology form
A postage-paid envelope to return your sample to the laboratory.
Better2Know will also send you a full set of instructions detailing sample collection and how to contact Better2Know with any questions by email.
After your sample has been collected by a qualified clinician, please follow the instructions and send your sample to our laboratory for fast and accurate analysis.
What will a Covid-19 antibody test tell me?
An antibody test indicates whether your immune system has produced antibodies in response to coronavirus. A positive result means that you have had Covid-19 and recovered. However, this may not mean that you are immune to Covid-19. The link between immunity and antibodies is yet to be confirmed.
When can I have this coronavirus antibody test?
To ensure the accuracy of the test, you should ensure that 14 days have passed since your symptoms began.
How accurate is this antibody test?
This Covid-19 antibody test is highly accurate with 99.6% specificity and 100% sensitivity at 14 days after symptoms began. This rises to 99.9% specificity and 100% sensitivity at 17 days.
Why should I test for Covid-19 with Better2Know?
Highly accurate results. This test will provide you with the peace of mind you need.
Early diagnosis. This test is suitable as early as 14 days after the onset of your symptoms.
Confidentiality. When you test with Better2Know, your personal data and results are always handled in complete privacy.
Quick results. Your results will be available within three working days after your sample arrives at our laboratory.
Accredited laboratory testing. All Better2Know tests are performed at the highest standards in our UK laboratories.
World class patient support. Our highly trained team are available 24/7 by phone, email, and live chat.
Order before 4pm and we will send your Nurse Kit by post on the same day.
Follow-up call if you do test positive and would like to discuss this with a member of our Patient Services team.
When will my Nurse Kit arrive?
If you order your testing kit before 4pm, Monday to Friday, we will send your kit out on the same day.
What should I do when I receive my Nurse Kit?
Once your testing kit arrives, please read the instructions provided. Following this, find a qualified medical practitioner to take your blood sample using the needle, sheath and blood collection tube provided in your kit. You should then return your sample to our laboratory using the pre-paid postage envelope. We suggest you wait until your kit arrives before booking your appointment.
How will I get my results?
You will receive your results within three working days after your sample's arrival at our laboratory. You can view your results in your online Patient Area using the unique log-in details you will receive at the time of booking. As soon as your results are available, we will send you an email to notify you.
How much does a coronavirus test kit cost?
Our IgG Antibody Nurse Kit is available for €69.95.
How it works
How It Works
Testing for Covid-19 with Better2Know's Home Test Kit is simple:
1

Buy your test online

2

Receive it in the post

3

Read the instructions and ask a qualified clinician to collect your sample

4

Return your sample to our lab in the postage-paid return envelope provided

5

Check your results online in your secure patient area
Better2Know provides private and confidential testing. Please refer to our Frequently Asked Questions (FAQs) section for more information. If you have any additional questions, please do not hesitate to contact us using the phone number at the top of the page.
FAQs
Frequently Asked Questions
General Questions
Q: How does this test work?
After receiving your Nurse Kit in the post, please read the instructions provided in full. You should then arrange for a qualified clinician to collect your blood sample. Once your sample has been collected, you should then send it to our laboratory for analysis, along with your pathology form, in the postage-paid envelope. Better2Know will contact you with your results when they are ready.
Q: How do I know if this test is suitable for me?
This Nurse Kit requires a qualified practitioner to collect a blood sample from your arm. Please bear in mind that this test may be unsuitable for you if you have adverse reactions to giving blood, an extreme phobia of needles or often struggle to draw blood. Instead, you may wish to book a Covid-19 antibody test at one of our clinics.
Q: What will my results tell me?
Your result will either be positive or negative. A positive result suggests that you have had Covid-19 and your immune system has produced antibodies in response to the virus. However, this may not mean that you are immune to Covid-19. You may still be able to pass the virus to others or become infected with Covid-19 again. The length of time any immunity may last is still being investigated by researchers around the world. If your result is negative, this indicates that your body has not produced Covid-19 specific antibodies. This may be for one of the following reasons: • You have never had Covid-19. • You have had Covid-19 but your body did not produce specific antibodies to fight the infection. Instead, other immune system factors and antibodies may have helped with your recovery. • You have had Covid-19 and produced antibodies, but they are no longer detectable. • You are currently infected with Covid-19, but your body has not yet begun to produce antibodies in response.
Q: Can any factors affect the results of this test?
As explained above, there are various reasons why you may receive a negative result. This does not mean that the test is inaccurate. There is still much for the medical industry to learn about Covid-19, including how long antibodies remain in the body, what this means for immunity, and why the virus affects individuals differently.
Q: Is this test reliable?
When taken at least 17 days after symptoms began, this test has 99.9% specificity and a sensitivity of 100%. If your test result is negative, there are several reasons why this may be, as listed above. As testing methods and research surrounding Covid-19 develop further, Better2Know will seek to bring you the most up-to-date tests available.
Q: When will you send my kit to me?
If your order is placed before 4pm on a working day, then it will be sent the same day. Otherwise it will be sent on the next working day.
Q: Why do you need my email address?
Your Patient Services Manager, Louise Wright, will email you your login details to access your results, a confirmation your kit has been dispatched and finally when all your results are ready. We do not sell on or email you any other marketing materials, that is why we do not ask you to opt in or out of anything.
Q: Do I need to use my real name?
No, but the postman does need to know where to deliver the kit to. As long as you use a name that will get the kit to you, then we do not need your real name.
Q: What does the kit packaging look like?
It will arrive in plain white envelope with your typed name and address on it.
Q: What if I do not want to pay by card?
Our payment reference on your card will show up as "health screen" so it will not link your purchase to Better2Know. If you do not want to pay by card then we can also accept cash. Please call our Patient Services Team to arrange payment.
Q: What if I have any more questions?
You can email Louise by replying to one of the emails she has sent to you. She will do her best to answer them.
---