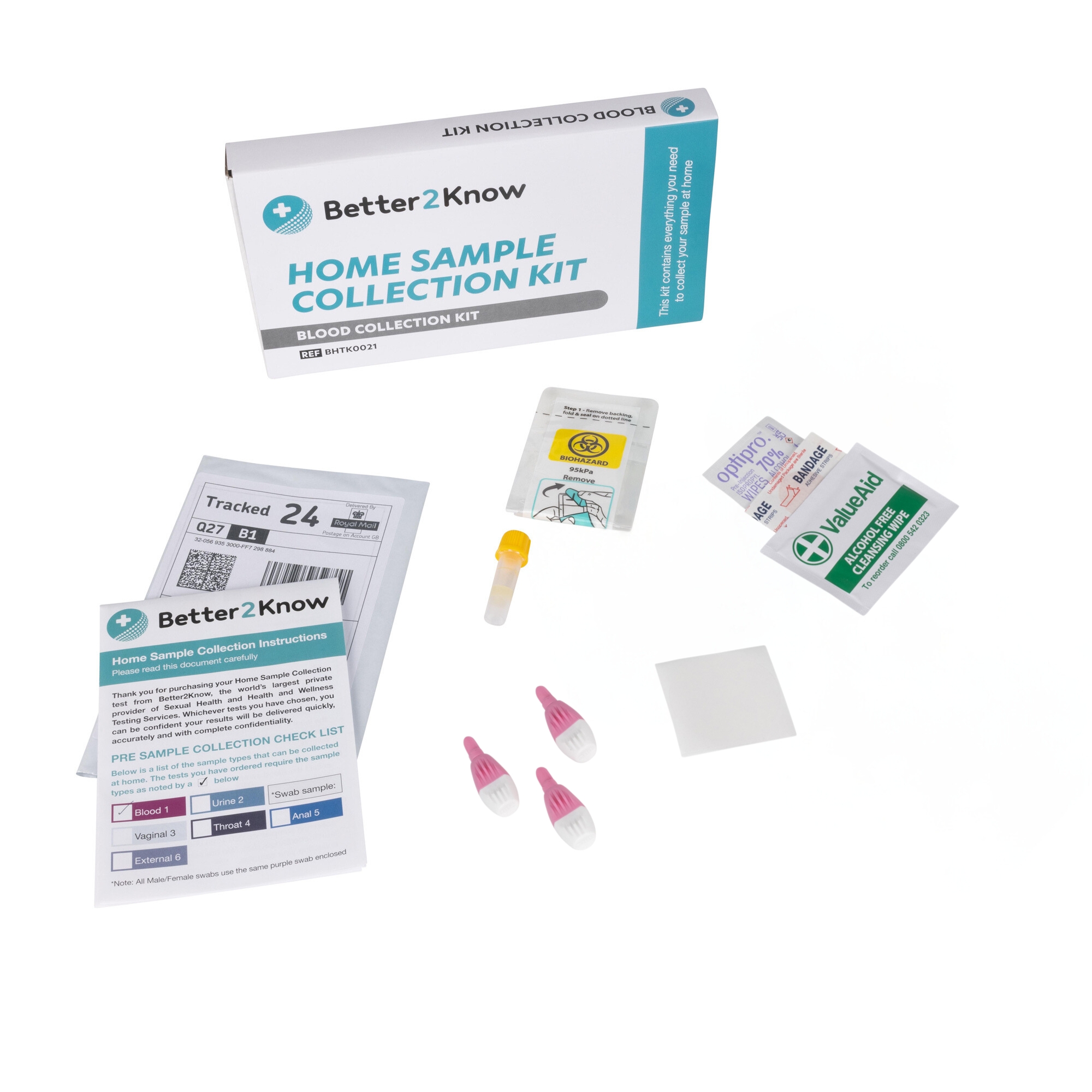 Product Description
How it works
FAQs
Product Description
Better2Know Terms & Conditions
What are Diabetes and Glycosylated Haemoglobin?
This test will help you to understand if you might have Diabetes.
Diabetes is a common disorder where your body is unable to regulate the sugar (glucose) in your bloodstream leading to there being either too much or too little.
Oxygen is carried around the body by Haemoglobin, a protein found in the red blood cells. Glycosylated Haemoglobin (HbA1c) is a mixture of glucose that is not used for energy production, with the haemoglobin in the red blood cells. This mixing process is called glycosylation. High levels of HbA1c indicate increased levels of glucose in the bloodstream, this in turn, increases risk of physical damage and health problems.
Increased levels of HbA1c suggest high blood sugar levels, which can then indicate diabetes or poorly regulated diabetes if a diagnosis has already been made. Symptoms that can be linked to diabetes comprise of urine infections or more frequent urination, unexplained weight loss or an increase in hunger or thirst.
Red blood cells have a four-month lifespan. The Better2Know HbA1c home sample collection test can provide an overview of your average blood sugar levels within this timeframe. This allows people with diabetes to intermittently check how controlled their blood sugar levels are rather than looking at short term changes.
What is the Better2Know home testing process?
The HbA1c home sample collection test requires a small blood sample. Your Better2Know kit will contain everything that you will need to collect your sample. Our team of patient services executives are available for any extra help that you might need to guide you through the sample collection process. You can then place your sample kit into the postage paid return envelope provided to return your sample to our accredited laboratory.
When will my home testing kit arrive?
All home testing orders that are placed before 4pm on Monday to Friday your kit will be shipped to you on the same day. If you would prefer a faster delivery service, please call our patient services team on the number above and they will be able to organise this for you.
How will I receive my test results?
You can login to your online secure patient area where you will be able to view your results one day after your sample has arrived at our laboratory. You can login in at any time to check the status of your results. However, a member of our highly trained Patient Services Results team will be in touch once all of your results are available.
What should I do with my results?
If you are outside of the normal range for Glycosylated Haemoglobin, you should seek further medical advice. Better2Know would be happy to arrange a private doctors consultation with one of our highly skilled doctors. Or, if you would prefer, you can take your results to you own GP.
How can I order my home test?
To place your order for your Better2Know Glycosylated Haemoglobin test, you can use the 'Add to Basket' button to take you through to check out. Or you can call one of our advisors on the number above, one of our team members will be happy to answer any further questions you might have and place your order over the phone for you.
How it works
How It Works
Buying your home test kits online is simple:
1

Buy your test online.

2

Receive it in the post.

3

Provide a sample.

4

Return your sample to our lab in the postage-paid return envelope provided

5

Check your results securely online.
We provide a completely confidential and anonymous service. Please refer to our FAQs above, for more information. If you have any additional questions, please do not hesitate to contact us, using the phone number at the top of the page.
FAQs
Frequently Asked Questions
Q: When will you send my kit to me?
If your order is placed before 4pm on a working day, then it will be sent the same day. Otherwise it will be sent on the next working day.
Q: Why do you need my email address?
Your Patient Services Manager, Louise Wright, will email you your login details to access your results, a confirmation your kit has been dispatched and finally when all your results are ready. We do not sell on or email you any other marketing materials, that is why we do not ask you to opt in or out of anything.
Q: Do I need to use my real name?
No, but the postman does need to know where to deliver the kit to. As long as you use a name that will get the kit to you, then we do not need your real name.
Q: What does the kit packaging look like?
It will arrive in plain white envelope with your typed name and address on it.
Q: What if I have any more questions?
You can email Louise by replying to one of the emails she has sent to you. She will do her best to answer them.