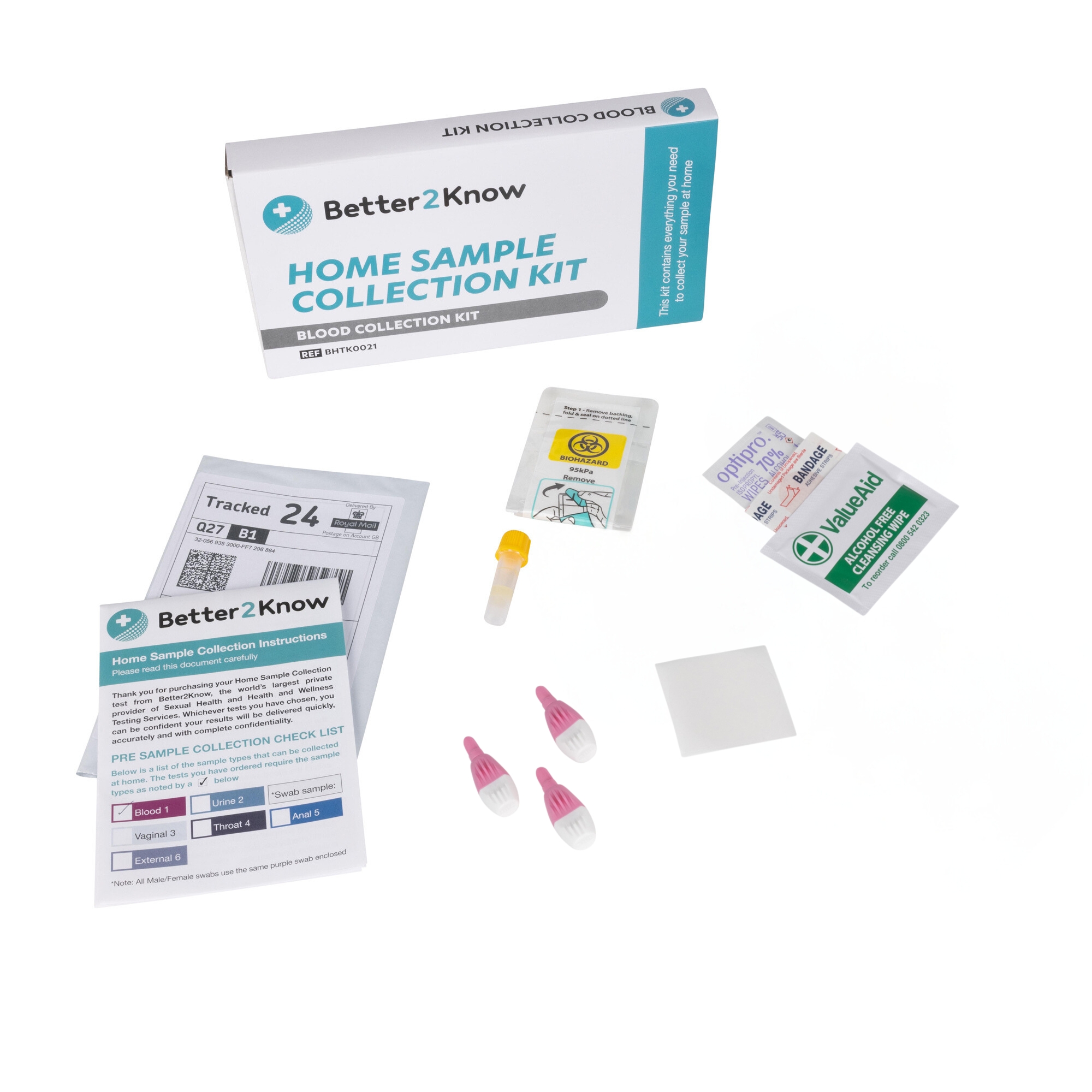 Product Description
How it works
FAQs
Product Description
Better2Know Terms & Conditions
What does a Heart Health Screen involve?
This screen includes multiple tests that check for low-density lipoproteins (LDL), high-density lipoproteins (HDL), total cholesterol, and triglycerides. Lipoproteins and lipids are fat collections or fat-protein substances that generate energy and contribute to cell function. By testing for these components, our Heart Health Screen evaluates your risk of cardiovascular disease, including heart attack, stroke, or heart disease.
Why should I consider a Heart Health Screen?
You should consider our Heart Health Screen if you have concerns about any of the following:
High blood pressure
Long-term cardiovascular health
Diabetes
Obesity
Any previous heart attacks or strokes
Family history of diagnosed heart conditions or heart disease
How does the Heart Health Screen work?
You will receive a test kit including the necessary tools and pre-paid postage envelope to collect and send in your blood sample to one of our accredited Ireland labs. Once we receive your sample, we efficiently analyse it and provide accurate results regarding your health.
What tests are run on my blood sample?
Our Heart Health Screen measures the following:
Low-density lipoproteins (LDL)
High-density lipoproteins (HDL)
Cholesterol
Triglycerides
Non-HDL cholesterol
When does my test kit arrive?
When you order your test kit before end of business hours Monday-Friday, your package will dispatch that same day via An Post. Depending on your location, you should receive your within 2 to 4 workdays.
How do I receive my results?
Within one workday after your sample arrives at our lab, your results will be ready. You will be contacted directly by our Patient Services team once the results are available. In addition, you can check your secure patient portal on our website whenever you wish, as your results will be posted there immediately upon completion.
What should I do about my results?
If your results exhibit abnormal levels of certain agents in your blood, we recommend you speak with a doctor, as you could be at an elevated risk of heart disease. Better2Know can assist you in scheduling a consultation with one of our private doctors throughout Ireland. Speaking with a healthcare professional is critical to understand your results and take next steps for treatment.
How do I order my test kit?
On this page, click 'Add to Basket' to proceed to checkout. You can also process your order over the phone with a member of our Patient Services team at the number listed above. Our team is available 24/7 to assist you and answer any questions you have.
Better2Know offers a variety of health screens and tests throughout Ireland, and we are happy to help you learn more about and manage your health.
How it works
How It Works
Buying your home test kits online is simple:
1

Buy your test online.

2

Receive it in the post.

3

Provide a sample.

4

Return your sample to our lab in the postage-paid return envelope provided

5

Check your results securely online.
We provide a completely confidential and anonymous service. Please refer to our FAQs above, for more information. If you have any additional questions, please do not hesitate to contact us, using the phone number at the top of the page.
FAQs
Frequently Asked Questions
Q: When will you send my kit to me?
If your order is placed before 4pm on a working day, then it will be sent the same day. Otherwise it will be sent on the next working day.
Q: Why do you need my email address?
Your Patient Services Manager, Louise Wright, will email you your login details to access your results, a confirmation your kit has been dispatched and finally when all your results are ready. We do not sell on or email you any other marketing materials, that is why we do not ask you to opt in or out of anything.
Q: Do I need to use my real name?
No, but the postman does need to know where to deliver the kit to. As long as you use a name that will get the kit to you, then we do not need your real name.
Q: What does the kit packaging look like?
It will arrive in plain white envelope with your typed name and address on it.
Q: What if I have any more questions?
You can email Louise by replying to one of the emails she has sent to you. She will do her best to answer them.