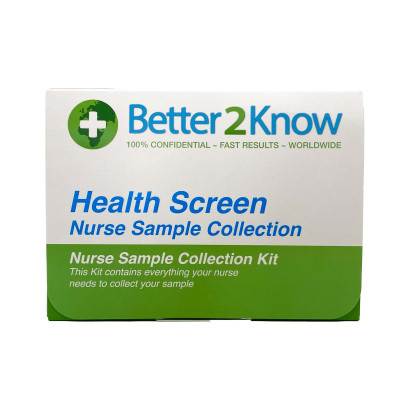 Product Description
How it works
FAQs
Product Description
Better2Know Terms & Conditions
What is Oestradiol?
Oestradiol is a reproductive hormone that serves many key functions in men and women. This hormone is the strongest of our three oestrogens, and it primarily matures and maintains the female reproductive system. Oestradiol also helps with developing and releasing eggs during ovulation, preparing the uterus for fertilisation, promoting breast tissue development, and increasing cartilage and bone density.
This kit needs a blood sample collected by a medical professional.
With age and the onset of menopause, women's Oestradiol levels decrease significantly as the ovaries cease functioning normally. This life stage can include symptoms such as hot flashes, night sweats, mood swings, vaginal dryness, fatigue, and depression. Once menopause begins, women experience increased low oestrogen levels and consequent osteoporosis. High levels of Oestradiol manifests in the form of symptoms including constipation, severe acne, depression, weight gain, and low sex drive. However, high Oestradiol levels can lead to more dangerous conditions, such as stroke, infertility, heart attack, and an increased risk of breast and uterine cancer.
Oestradiol is crucial for sperm production in men, and their bodies generate the hormone by converting testosterone in the testes. Normal levels of Oestradiol are much lower in men than women. If they become too elevated, men can experience weight gain, sexual dysfunction, muscle loss, and the development of physical female characteristics.
Why consider the Oestradiol test?
This test can provide critical information for women concerned about menopause, osteoporosis, or fertility. With this information, you will gain a better understanding of your body and how to manage potential issues stemming from abnormal Oestradiol levels. This test is also beneficial for men and women experiencing any of the above symptoms, as your results will provide a fuller understanding of your physical health and how to manage it.
The Better2Know test process
The Oestradiol home test measures the amount of this hormone present in your body. Your kit will contain everything you need for your phlebotomist to collect your blood sample. Then you will send your sample to one of our accredited Ireland labs via the pre-paid envelope included in the kit. Once your sample arrives at our lab, we swiftly and accurately analyse it.
When would my home test kit arrive?
If you order the test kit before 4pm on a weekday, it will be dispatched via An Post that same day. Your package will reach you in 2 to 4 days, depending on your location.
How do I get my test results?
Within one workday of your sample arriving at our lab, your results will be ready. Once they are available, a member of our team will contact you directly to discuss these results. However, you can also periodically check your secure patient portal online on our website, where your results will appear as soon as they are available.
What should I do about my Oestradiol Test results?
If your results indicate unnatural Oestradiol levels, we recommend you meet with a doctor. Better2Know can assist you in scheduling a private consultation with one of our skilled doctors across Ireland. You can also meet with your GP. By discussing your results at length with a healthcare professional, you will receive the advice and treatment necessary to manage your potential health issues.
How do I order my home Oestradiol test?
How it works
How It Works
Buying your home test kits online is simple:
1

Buy your test online.

2

Receive it in the post.

3

Provide a sample.

4

Return your sample to our lab in the postage-paid return envelope provided

5

Check your results securely online.
We provide a completely confidential and anonymous service. Please refer to our FAQs above, for more information. If you have any additional questions, please do not hesitate to contact us, using the phone number at the top of the page.
FAQs
Frequently Asked Questions
Q: When will you send my kit to me?
If your order is placed before 4pm on a working day, then it will be sent the same day. Otherwise it will be sent on the next working day.
Q: Why do you need my email address?
Your Patient Services Manager, Louise Wright, will email you your login details to access your results, a confirmation your kit has been dispatched and finally when all your results are ready. We do not sell on or email you any other marketing materials, that is why we do not ask you to opt in or out of anything.
Q: Do I need to use my real name?
No, but the postman does need to know where to deliver the kit to. As long as you use a name that will get the kit to you, then we do not need your real name.
Q: What does the kit packaging look like?
It will arrive in plain white envelope with your typed name and address on it.
Q: What if I have any more questions?
You can email Louise by replying to one of the emails she has sent to you. She will do her best to answer them.