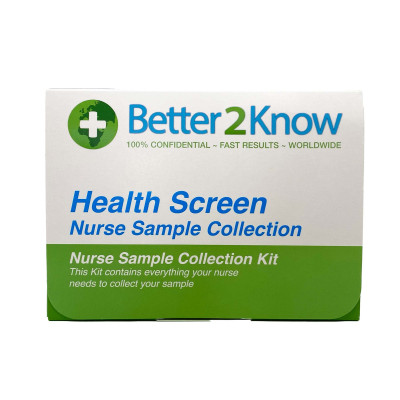 Product Description
How it works
FAQs
Product Description
Better2Know Terms & Conditions
What is included in the Menopause Screen?
The following hormone tests are included in the Menopause Screen:
Luteinizing hormone (LH)
Follicle-stimulating hormone (FSH)
Oestradiol (17 Beta) (A hormone affecting the activity of the ovaries)
Thyroid-stimulating hormone (TSH)
Free thyroxine (FT4)
Why have a Menopause Screen?
The Better2Know Menopause Screen tests you for the levels of five separate important hormones. Hormones are chemicals produced by certain cells in our bodies and these chemicals are responsible for regulating a wide variety of processes including metabolism, digestion, lactation, and reproduction.
This test needs a medical professional to collect your blood sample for you.
The hormones tested for in this screen are all involved in regulating a woman's reproductive cycle. Certain changes in the levels of these hormones can provide a good indication of pending or established menopause. Levels of these hormones can also indicate certain problems with either the Pituitary or Thyroid glands which may require further investigation.
How does the home test work?
Simply order your test from the panel on the right. We will post your kit to you on the same working day if your order before 4.00pm. Your kit will contain everything that your phlebotomist needs to collect your blood sample for you. Once you have collected your sample, post it back to us in the pre-paid envelope provided. We will then email you your results.
When will my test kit arrive?
Order your kit before 4pm Monday to Friday and we will post it to you on the same day. Your kit will be sent in plain packaging. You will receive your kit in 2 to 4 days. Delivery times may vary depending on where you live.
When will my results be ready?
Your results will be ready within 2 working days of your sample being received in the laboratory.
What do the results mean?
This panel of tests can give an early indication of the menopause in women.
Menopause refers to the end of a woman's ability to reproduce. Menopause is a normal change usually occurring when a woman is in her late 40s to early 50s. The age will vary from woman to woman and some women experience early or late menopause. The transition from an ability to reproduce to one where it is no longer is possible is rarely a sudden change and usually takes place over a period of years. This is period of change is referred to as the peri-menopause. In some women, the onset of these biological changes can bring about effects such as hot flushes. These flushes are sometimes strong enough to disrupt normal activities and feelings of well being. This panel of tests will provide an indication whether you are reaching or have reached the menopause.
How it works
How It Works
Buying your home test kits online is simple:
1

Buy your test online.

2

Receive it in the post.

3

Provide a sample.

4

Return your sample to our lab in the postage-paid return envelope provided

5

Check your results securely online.
We provide a completely confidential and anonymous service. Please refer to our FAQs above, for more information. If you have any additional questions, please do not hesitate to contact us, using the phone number at the top of the page.
FAQs
Frequently Asked Questions
Q: When will you send my kit to me?
If your order is placed before 4pm on a working day, then it will be sent the same day. Otherwise it will be sent on the next working day.
Q: Why do you need my email address?
Your Patient Services Manager, Louise Wright, will email you your login details to access your results, a confirmation your kit has been dispatched and finally when all your results are ready. We do not sell on or email you any other marketing materials, that is why we do not ask you to opt in or out of anything.
Q: Do I need to use my real name?
No, but the postman does need to know where to deliver the kit to. As long as you use a name that will get the kit to you, then we do not need your real name.
Q: What does the kit packaging look like?
It will arrive in plain white envelope with your typed name and address on it.
Q: What if I have any more questions?
You can email Louise by replying to one of the emails she has sent to you. She will do her best to answer them.